Ah! Japan…where the sun rises and where the Sakuras bloom. Japan is known for its beauty, may it be natural or man-made. But did you know that Japan at night is equally as mesmerizing?
Japan at night presents a breath-taking array of activities including:
Onsen (spa)
Sushi bars
Ramen
Night markets
Bars with a view
One-coin bars
Shime parfait
Indoor BBQ
Izakaya 
Music venues and clubs
Casinos
Japan is something to behold when the sun is high and bright. But you haven't truly witnessed all its glory if you haven't yet experienced Japan at night. One might wonder if the sun ever sets in Japan because even during what is supposed to be a dark time, the in the cities the night still glows with its neon lights and bustling crowds.
Find out why this experience must be in your bucket list.
Japan at Night: A Breathtaking Experience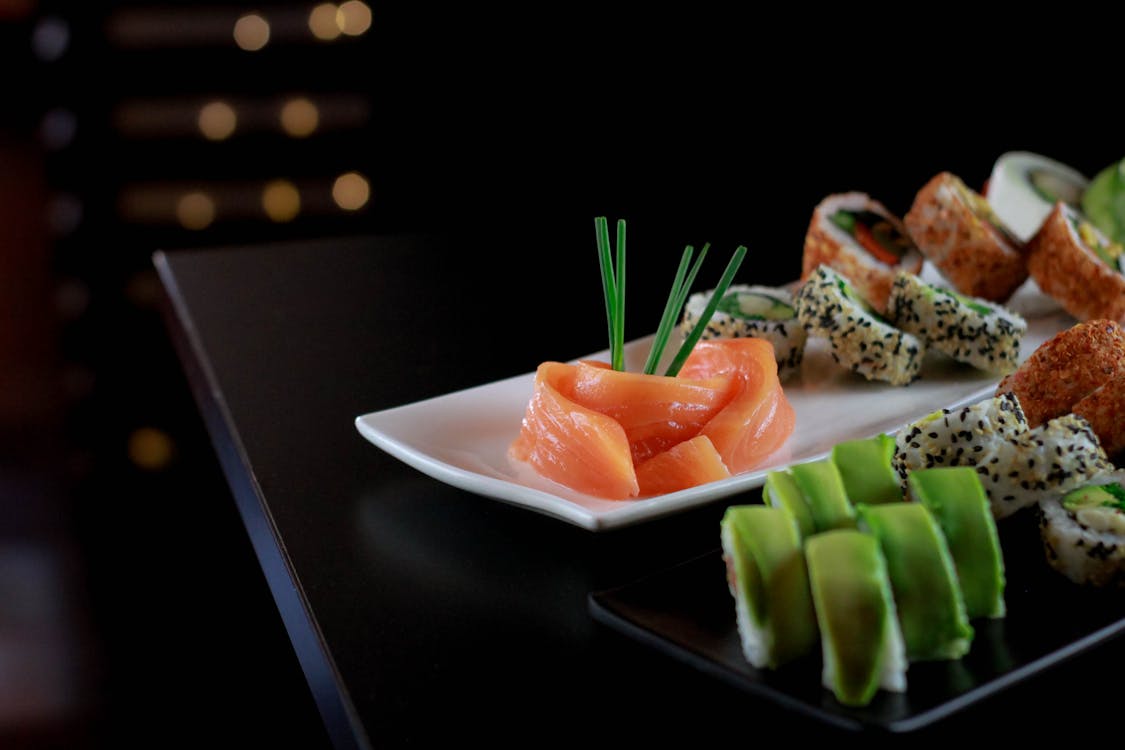 Japan's nightlife is an excellent compensation for the country's workaholic nature. Japan is known for a hard work ethic, even to the point of working excessively. It is so rare for Japanese workers to take extended time off away from work that rest days can be easily counted on one hand. These sometimes brutal working conditions embodies more of what a dark time means.
But fear not, Japan at night can help ease the exhaustion brought about by the day's responsibilities. It's been a hard day's night; you've been working like a dog, and you should reward yourself by enjoying what Japan has to offer (sleep like a log later).
You could eat a horse (or a bento box of sushi!)
Before proceeding to the many restaurants and food places in Japan, let's start with this idiom: I could eat a horse. This idiom means that one is extremely hungry. And of course, you are! You had a long day. What better way to regain lost energy than by eating out at a good restaurant?
· Onigiri
Get your fill of carbohydrates by trying out some onigiri (Japanese rice balls). Many onigiri shops litter Tokyo- from Ohitsuzen Tanbo that serves their food in ohitsu, a wooden container for rice, to the oldest onigiri shop, Onigiri Asakusa Yadoruku, that uses ingredients from all over Japan. Also, some shops serve their rice balls like in a sushi place where you get to sit at the counter and watch as they make their food for you.
·
Izakaya
If you are craving a variety of Japanese cuisine and are around Kyoto, you must try Izakaya Itsuraku. It is a popular restaurant near the Takase River where you can savor the best of Kyoto's flavors. You can also visit another Kyoto restaurant that combines the basics of Japanese cuisine and new techniques. Japanese Restaurant Tsugu is open until early morning, allowing you to gawk at its Naguri flooring while eating good food.
·
Sushi
If you don't mind standing while eating, then the Uogashi Nihon-ichi Shibuya Dogenzaka sushi bar will be a great place to eat. They have a few chains around Tokyo, so you wouldn't have to worry about the multitude of people that want to eat at the same place. The joint chefs prepare your order up close, allowing for a different kind of food experience.
·
Shime Parfait
After having your main course, you would want something for dessert and Sapporo's Shime Parfait (night parfait) trend is the dessert you're craving for. One place to check out is Parfait, Coffee, Sake, Sato. Its popularity will try your patience because people usually have to wait in line. But its Japanese-style wood décor will make the wait worth it. Want to know what food this place offers? Just reread the name of the shop XD.
Knockback a drink!
Here's another idiom before you go out and find the nearest bar. To knock back a drink means to drink something (usually alcoholic) quickly and in large amounts. Make sure to pace yourself, though, and always drink responsibly.
Japanese culture involves regular drinking sessions. Be it for work or for loosening up after work. Bars are often filled with business people discussing work-related things with clients or having fun after closing deals. Drinking is an excellent way to show good relations with other people. Whether you want a cheap bar or one with a view, Japan has the bars that fit your criteria.
·
One-coin Bars
Standing might be something you'll have to deal with and endure if you are looking for a cheap bar. At Ginza 300Bar Next, despite having standing customers, they offer a musical experience during the weekends when bands and DJs excite the place up. Their cocktails are even made with homegrown organic herbs that only go for ¥300 (their food as well!).
If you are the wine-drinking type and wouldn't mind drinking ten different ones- five reds and five whites, you'll fancy Kaku-uchi Wine Risaburou. Another bar that requires customers to stand, their menu goes for only ¥500, but their countertops are very well cushioned for comfier accommodations.
·
Bars with a view
If you do not exhibit acrophobia or a fear of heights, then you'll love R Restaurant & Bar because it is found on the 13th floor of Asakusa's Gate Hotel. Its outdoor terrace offers a stunning view that makes it difficult to get a reservation.
But suppose you enjoy some foreign music such as bossa nova and other Latin tunes while looking out over the Hama-Rikyu Gardens, Tokyo Bay, and the Rainbow Bridge. In that case, The Conrad's lounge, TwentyEight, will suit you. Relax while holding a drink in your hand and let the Latin music lull away the worries of the day.
Japan at Night: Shop 'til You Drop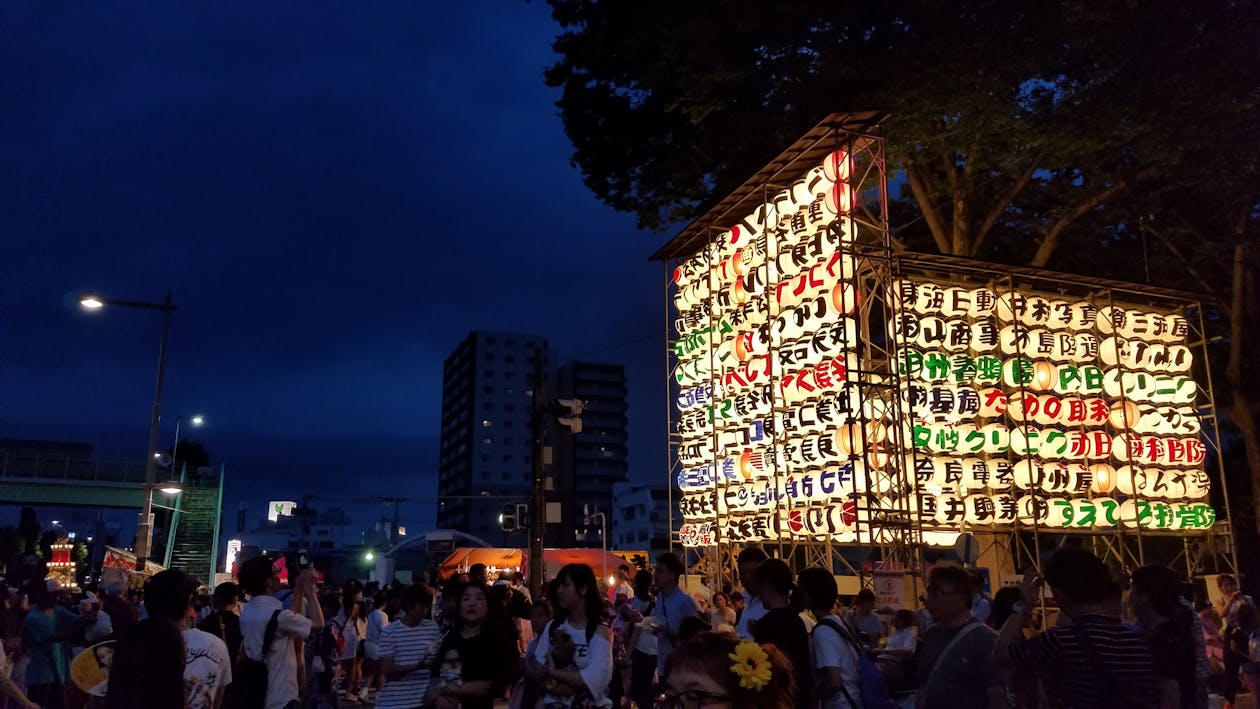 Idiom time! This one means that you have been shopping for a long time. You must be exhausted from all those shopping but have you visited some of these places that would undoubtedly make a shopaholic go wild?
·
Retail
There's a shop in Tokyo that is open 24/7. The Don Quijote Shibuya is a place for finding trinkets and souvenirs. It is a discount chain store wherein products are sold for lower prices than full-retail prices. You can find all sorts of stuff ranging from branded goods to groceries.
Another shop to check out is Tam, especially if you want to find secondhand clothing from the 80s and 90s. Branded clothes go for as low as ¥6000, and if you visit the shop after 9 pm, you'll get 10 percent off.
·
Night Markets
Enjoy the night air as you shop through Japan's night markets. You'll be bombarded with bright lights and a buzzing crowd while you inhale the smell of street foods. Night markets are good alternatives for enclosed malls as they offer a different kind of experience that you can't get from walled buildings.
Night markets are often seen when there are festivals to be celebrated. They are also put up near temple grounds and dates back to as far as the 400s during which, they are limited to yatais or food vendors that offer snacks for travelers.  
When Sakuras are in bloom, night markets are a familiar spectacle as well. They are placed outside Kyoto's Hirano Shrine, the streets near Senso-Ji Temple, and other places. These night markets are filled with stalls selling street food, souvenirs, and gifts, among others. They are a good way of supporting local Japanese artisans and celebrating festivities with locals.
Fit as a fiddle (with these activities)
When you hear someone say that you are fit as a fiddle, you are healthy and robust- as you should be! No amount of work or frustrations should cause any decline in your overall well-being. And to ensure the upkeep of your physical condition, you should try out some interactive attractions that are still available in Japan at night.
Calling all the marksmen out there, Tokyo Shooting Gallery offers its customers to travel back in time during the Showa era (1926-1989) and practice their shooting skills. At ¥500, you can access an air gun and use their shooting range. You can also win prizes with your skills.
A bowler, perhaps? Visit Shinjuku Copa Bowl for an incredible experience of bowling at an alley with light and sound effects. These will guarantee any bowler some strikes.
Bat some balls at Asakusa Batting Stadium. Loosen up those arm muscles by hitting some balls inside the bullpen.
There are all sorts of activities for everyone to get those juices flowing for another day of work and responsibilities.
Let your hair down (or not) at these spas
.
Here's another idiom to add to your bountiful English learnings. When you let your hair down, it means that you are allowing yourself to relax and enjoy yourself. So do just that when you visit these night spas in Japan.
A popular public bath that has been catering and attracting customers since 1949 is Akebono-yu. The women's part of the bathhouse showcases a large painting with Mt. Fuji as the backdrop of Tokyo Skytree, Kaminarimon gate, and the Sumida River. At the same time, a witch rides her broom in the upper left corner while the men's part has the same mural except for the added image of Godzilla peeking over the mountain.
If you want to visit one of the classiest spas in Tokyo, try out Times Spa Resta. It is an excellent place for you to unwind and enjoy a night of soaking. It even has a Finnish-style sauna in the men's section, along with a terrace area and a rotenburo. The women's side offers a clear mist sauna, and jacuzzi among other facilities.
And for a manga-inspired spa complex, visit Thermae-Yu in Kabukicho. It has hot springs and rotenburo that are supplied with onsen water. The facility offers a variety of treatments that will indeed induce relaxation for your night out.
Work of art
Ever heard someone compliment you by saying that you are a work of art? It means that that person finds you attractive enough to be compared to art. Maybe even enough to be among the artworks and exhibitions found in the museums that Japan has to offer.
Among these museums are the teamLab Planets, where guests will walk through the water and engage with the flowers in the garden. The fun part? You'll do it barefoot! Immerse yourself in a beautiful digital world of art that defies boundaries between self and the artworks. Everything was designed to challenge and enhance their customers' awareness on different surfaces that they'll be subject to. The museum has three special exhibitions: 
The Water Area where people can witness koi dances that create drawings on the water surface, an interactive artwork of light points that create 3D objects, and float around a universe of falling flowers, among others.

The Garden Area has a floating flower garden and a glow-in-the-dark artwork that changes depending on the time of day.

The Public Area where fire particles fall from the sky, and the artwork is influenced by people's movements. 
The Samurai Museum
If you pride yourself on being a history buff, then the Samurai Museum is a great place to go. Japanese warfare history is known for the samurai. For over 700 years, the brave warriors fought in wars caused by conflicts between old families and served as symbols of courage and masculinity. The museum introduces those samurai for everyone to acknowledge their service and pay tribute to Japan's rich history. There are photo sessions where visitors can wear kabuto (samurai helmet) and jinbaori (battle coats).
Additionally, samurai calligraphy lessons are taught by Shiho Kurabayashi, who designed the logos for Sadako 3D and the Japanese Aerospace Exploration Agency. Sword lectures are also available and given by Mr. Paul Martin, the former curator of the British Museum, and samurai live music shows that present traditional Japanese music played by professional performers.
The Daikanyama T-Site Tsutaya bookshop may not be a museum. Still, it might as well be one as the architecture firm that created this masterpiece won an award at the World Architecture Festival. Make sure to add this one to your bucket list of bookstores to visit if you are an avid reader. A night out just visiting this place might not be enough, even if it is open until 2 am. Take a day off for this and lose yourself in the many books that line their shelves. They have English-language books, design books, vintage titles; you name it. If it's possible to drown in books physically, then you probably will at Daikanyama T-Site Tsutaya.
Ain't no mountain high enough
Though a popular song title by Marvin Gaye and Tammi Terrell, this phrase means that no obstacle will stand in the way of someone who perseveres and is determined. Very fitting motivational words for the next activity you can do in Japan at night- climbing Mt. Fuji.
Most people time their hike to reach the peak before the sunrise. The recommended way of going about this would be to climb to a 7th or 8th station mountain hut on the first day, sleep for some hours, and continue early on the second day to the summit. But a popular way of reaching the summit is to take a hike from the 5th station in the late evening. 
Though considered the more tiring way, it would be worth it once you reach the summit and witness sunrise at an elevation of 3 776 meters (12 288 ft.). And what better way to cement Japan's title of being the land of the rising sun than to see a sunrise at the summit of the country's highest mountain.
Hit the Books
When someone says that they will hit the books, what they mean is that they will start studying with intent and intensity, perhaps for a test. And this is another thing that you can do in Japan at night. You can opt for some quiet time and continue mastering the English language. Learn more idioms for you to use in your conversations. They would make you sound more intelligent and witty. They add some creativity in expressing yourself while also causing intrigue to the person you are talking to. 
Learn English to Be Able to Enjoy Japan at Night to the Fullest!
With Denwasensei, learning English is at the palm of your hand. Learning English will not hinder you from enjoying a night out in the streets of Japan- just grab your phone and you are all set.  Informational blogs are available for you to read along with educational and fun lesson plans for students who want to learn the English language. Who said that learning should be confined to one place? Know that learning English is actually synonymous with the words pleasurable and enjoyment.